Joe Vanloon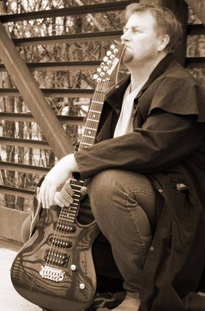 Joe Vanloon – Guitar, singer, songwriter born in Flint MI.  At the young age of 12, music has been a huge part of Joe's life. As a little boy, when things looked down he found that singing or playing drums on a cardboard box was medicine for his soul. He picked up the guitar at age 18, and my it changed his life forever. He started writing songs and fragments of songs and has been doing so ever since. All of them have special meaning to Joe; one such song, titled "Believe in Me", truly sticks out for him and the audiences he presents it to.
Growing up in humble and sometimes difficult circumstances, he immersed himself in music.  Participation in school bands and listening to his heroes of music in the rock and country rock genres — like the 80's greats, Def Leopard, Pink Floyd, and The Eagles — Joe slowly evolved his own unique style.   He moved around a lot,  eventually joining the  US ARMY, where he found further inspiration for his music; he learned to never quit or give up.
Joe has been a part of many musical acts of various genres throughout his life, from rock , to metal bands, to country bands.  He has been a bass player, backup singer, lead singer, and drummer in all these different types of music.  Finding many outstanding players of many styles of music, he was led recently to delve again into rock and country music.